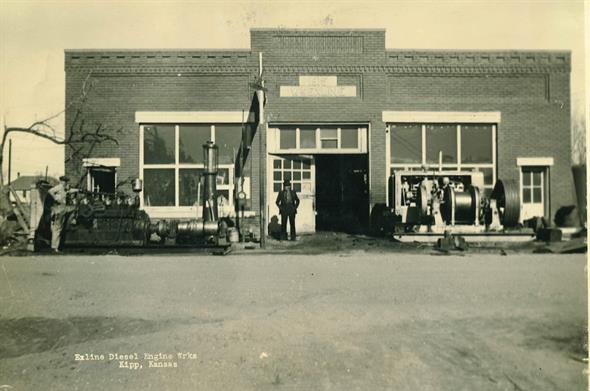 150 Years Ago
What began 150 years ago with a forge and anvil under a shade tree has grown into a nationally recognized repair and manufacturing company. In 1872, Robert Warren Exline, a skilled blacksmith at the age of 18, migrated from Ohio to Abilene, Kansas and set up shop under a shade tree to serve the bustling cattle town and westward migrating gold seekers. It wasn't long before he married Anna Vila Ruby, a young native of Switzerland. Despite his young age, Robert was a prosperous and hardworking blacksmith and wagonmaker. In 1880, Robert and Anna gave birth to two sons, William and Fred. William eventually took charge of his father's business at the age of only 17. By 1915, the first "real" Exline shop was constructed by William George Exline, in Kipp, Kansas.
Since the 1920's
It was in the 1920's that Exline, then known as the "Exline Tractor Shop", entered the Gas & Oil Industry. Since then, Exline, Inc. has grown to be one of the leading Repair and Manufacturing Companies in the Industry. In 1929, William George, like his father before him, passed the family business to his own son, William George Exline, Jr. In February 1943, the unfortunate explosion of a butane tank left much of the Exline shop in ruins, but a determined William Jr, began rebuilding immediately.
During the 1950's and 1960's
By the late 1950's and early 1960's, the 4th generation of the Exline family was ready to join the business. Brothers Jerry, Robert, and Douglas Exline, all three graduates of Kansas State University, came aboard as leaders in the business. After the triple retirement of the Exline brothers in 1994, the company was passed onto a 5th generation Exline, Robert William Exline Jr. (Rob), who currently serves as President.