Exline Video Wins Awards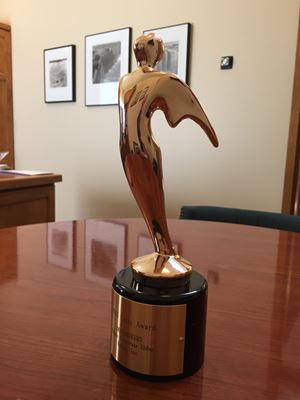 EXLINE VIDEO AWARD By Veronica Norris, Marketing/Communications Manager.
Last year, Exline worked with Imagemakers, Inc. a Wamego, Kansas based marketing agency to produce a corporate video highlighting Exline's history in the Gas Compression Industry. Since the video's release in October, it has been recognized both locally and nationally. Here is a list of the awards the video has been awarded. At the American Advertising Awards, the American Advertising Federation awarded the Exline video with a Silver Award in Digital Advertising-video. It was the only film to receive that honor out of 24 entries. The Telly Awards, is an award honoring the finest film and video productions, groundbreaking web commercials, videos, and films, and outstanding local, regional and cable television commercials and programs and segments. A Telly award is given based on the merit of each entry, rather than the entries competing with one another for honors. The Exline video was entered into the Online Commercial-Institutional/Corporate Image category and was noted as winning a Bronze award.
The Exline video was also recognized by the Topeka Chapter of the International Association of Business Communicators, (IABC). The video was recognized at as an "Award of Merit" winner at the 2015 Bronze Quill awards in held in Topeka, Kansas. Entries in this competition were judged by IABC members in Texas, Oklahoma, Arkansas and Tennessee. Exline was entered in the corporate/industrial video category. The winning team from Imagemakers, Inc. consists of Colin MacMillan, Dan Holmgren, Dusty Thomas, and Jaclyn Collins. Colin MacMillan is the Director of Photography for Imagemakers. Exline members have enjoyed working with Colin during his filming trips to Salina. For this video, Colin also followed some of Exline's field service crews to the Northern Natural Gas facility in Bushton, Kansas and the Tallgrass Energy facility in Tescott, KS. Colin was granted access inside the facility and allowed to film the Exline crews working at those stations. "We enjoy being able to provide our clients with material that have been not only able to win awards, but have proven to deliver measurable results. The best part of our job is seeing the positive effects Imagemakers' work has on the people and their clients we serve, "said Dan Holmgren, President and Creative Director of Imagemakers. If you haven't yet watched the video, please do. It does a great job of telling the Exline story. Watch for a new video coming in October 2015 which will provide an overview of the Exline Corporation and highlight Exline's Industrial repair capabilities.