Damage Control from Exline. Exline Protective Devices keep Minor Damage from Becoming a Major Problem.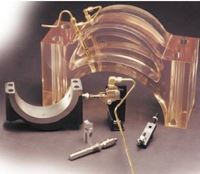 Exline Protective Devices Provide Damage Control
Exline Protective Devices keep minor damage from becoming a major problem. Reduce operational risk and protect your critical equipment with Exline protective devices.
Reliability is one of the upmost importance when it comes to keeping your equipment running safely and efficiently. Positive action and proven reliability make these simple, economical devices ideal for use on compressors, oil field treatment units, and production machinery. Like your own personal 24 hour security guard, these devices are designed for easy installation on any equipment that operates unattended and is subject to severe damage from major component failure.
Exline Inc. manufactures and installs monitoring systems and safety devices for all types of critical equipment. We make our pneumatic and electronic main bearing protective devices at our facility in Salina, KS. These devices can be used to signal trouble or initiate shutdown when excessive wear or high temperature endangers equipment. Exline Protective Devices keep minor damage from becoming a major problem.
Our (5) top requested devices are
Striker sensor
The Exline Striker sensor is used primarily in sensing the temperature of connecting rod bearings and other moving parts. The Striker sensor is made of stainless steel for positive service in corrosive environments.
A pressure drop in a pneumatic or hydraulic control system signals a shutdown in equipment. Striker sensors come in several desired lengths and melting temperatures. Typical areas protected by the striker sensor are
Power rod journal
Compressor rod journal
Crosshead pins
Piston skirt
Stationary Sensor
The Stationary Sensor is the most versatile of all Exline temperature sensors. It is designed to detect excessive temperature where protection is necessary on stationary parts. These sensors come in several different lengths and melting temps.
Typical areas protected by the Stationary sensor include:
Bearings
Slides (Compressor and Power)
Packing Cases
Fuel injection headers
Jacketwater
Discharge gas
Oil sump
Compressor Rod Drop Indicator
The Exline Compressor Rod drop indicator is installed directly beneath the compressor rod to detect wear. If wear occurs on the piston, or the piston riders or cylinders, the rod drops and makes contact with the indicator, which melts the plug and results in a pressure drop in the pneumatic control system. This pressure drop in turn, shuts down the equipment or sounds an alarm.
Comes in different sizes depending on the diameter of the rod, and are customized to different melting temperatures based on your equipment needs.
Roller Type Wear Detector
The Exline Roller Type wear detector is used to monitor horizontal or vertical movement of reciprocating or rotating parts. The Roller wear detector is installed below the compressor rod. If wear occurs on the piston, piston riders crosshead, or cylinders, the rod rotates the roller wheel, which is then locked into a shutdown position, shutting down the compressor.
The roller wear detector can be used in applications where the use of heat sensitive protective devices are not applicable. The Roller wear detector comes in one size only and can be used with rods of any diameter.
Electrical Temperature Sensor Assembly
The Exline Electrical Temperature Sensor Assembly is designed to open or close an electrical circuit when the device senses a predetermined temperature.
This assembly functions in highly corrosive environments and is rated to withstand pressures of up to 8,000 psi. This assembly is an economical alternative to other types of sensing devices where absolute dependability is required, as in remote or unmanned installations.
Common applications of this device on engines and compressors include lube oil, jacket water headers on stationary engines, and heater treaters or similar fired vessels. This assembly comes in various sizes according to Thermowell length.
To Learn more about Exline Protective Devices, click the link below.
Damage Control from Exline. Exline Protective Devices keep Minor Damage from Becoming a Major Problem.