Engine and Compressor Parts from Exline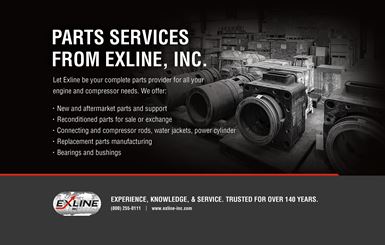 It takes more than good luck to keep your equipment running smoothly. Breakdowns happen, and when you need spare parts think of Exline Incorporated. Exline maintains a wide variety of new, re-manufactured and re-conditioned parts for sale for both skid mounted and foundation based engines and compressors. These parts have been manufactured or re-conditioned to the highest quality standards and are available for immediate shipment. All Exline component parts undergo a 100% inspection process to ensure parts meet or exceed industry specifications and are backed with the industry leading standard Exline warranty.
Exline inventories critical Engine and Compressor components including power and compressor cylinders, pistons, heads, connecting rods, crankshafts, wrist pins, water jackets, piston rings, packing, and bearings and bushings for most engine and compressor types including Clark, Cooper Bessemer, Enterprise, Fairbanks Morse, Ingersoll Rand, Nordberg, Worthington, Waukesha, White Superior, Ariel and Gemini.
Exline offers an exchange program on a wide range of power cylinders. New and exchanged cylinder bores can be finished or restored with our patented ThermAlloy® process backed with an 18 month service warranty. Thermal spray coatings are also used to restore worn or eroded, sealing /fit areas to standard dimensions in sealing areas on water jackets, connecting rods, thrust faces and bores, and compressor rods.
When you need spare parts, think of Exline as your first and only choice for replacement parts. Experience the high quality and service you expect from Exline.