Top Ten Reasons to Restore Power Cylinders with ThermAlloy® from Exline, Inc.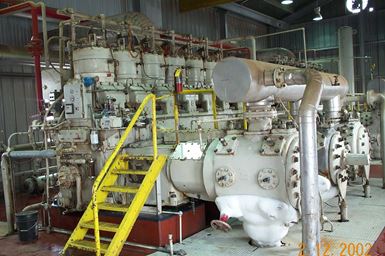 Top Ten Reasons to Restore Power Cylinders with ThermAlloy® from Exline, Inc.
1. You can trust Exline. Exline Incorporated has nearly 50 years of experience in the restoration of power cylinders and more than 60 years of experience in applications using thermal spray coatings to restore parts to original dimensions.
2. Exline developed ThermAlloy® as an alternative process for the restoration of large‐bore power cylinders. From 1969 to the year 2000, Exline offered electrically plated chrome to restore the bore of a power cylinder. In 1990, Exline developed a thermal sprayed material referred to as "ThermAlloy®" as an affordable alternative to chrome. ThermAlloy® is an alloy of materials developed by Exline which is thermal sprayed in the bore of power cylinders/liners to re-establish size and provide many operational benefits.
3. ThermAlloy® is safer for the environment. The intent of ThermAlloy® was to engineer a coating that was environmentally safe and would provide wear characteristics equal to or better than that of chrome and superior to cast iron amid the desire to provide a more environmentally favorable alternative restoration method to chromium‐electroplated processes. Environmental regulations have caused chrome plating costs to rise in recent years. Stringent environmental regulations and the rising costs of disposal and handling of chrome‐related by‐products have prompted the need for alternative processes for the restoration of large‐bore power cylinders. The benefit of ThermAlloy® is that we have eliminated the chrome! One of the main reasons to use ThermAlloy® is to replace the current alternatives for power cylinder repair and restoration as well as achieving an improved running surface.
4. ThermAlloy® is widely used in the oil and natural gas industry. Exline has been successfully providing ThermAlloy® to the industry for the last 26 years, with over 3,000 cylinders in the marketplace today, and documented success in both 2 Cycle and 4 Cycle cylinders.
5. ThermAlloy® is compatible with all Industry Power Ring Suppliers. The benefit of ThermAlloy® is that it is compatible with several rings sets presently available in the market, however we recommend you contact your power ring supplier for their most current recommendation when running ThermAlloy®. ThermAlloy® sprayed power cylinders can be placed in service along with cast iron and/or chrome plated cylinders in the same unit.
6. ThermAlloy® provides results. Independent testing found that ThermAlloy® had a lower coefficient of friction than either cast iron or chrome when run against cast iron in a properly lubricated environment. Increased hardness over cast iron and improved porosity through the entire depth of the coating, minimizes maintenance requirements and allows bore de-glazing at piston ring change.
7. ThermAlloy® Increases refurbishment limits. The current ThermAlloy® product consists of a multi-layer system that can be used to restore bores with up to .050" per side of coating thickness, exceeding today's chrome application limits.
8. ThermAlloy® cylinders are restored with characteristics as "new" cylinders. The ThermAlloy® process begins with visual inspections of cylinders for damage. Cylinders are then degreased and steam cleaned, oven baked, magnetic particle inspected for crack indications; and inspected for size, condition and previous surface treatment, if applicable. Previously chrome plated cylinders undergo a chrome stripping process to return the cylinder to base material prior to inspection and ThermAlloy® application. All information is documented. On jacketed cylinders, pipe plugs are removed and replaced with new. The cylinder is then lined‐up and prep‐bored to ensure concentricity with outer locating surfaces.
9. Exline Quality. All cylinders coated with ThermAlloy® are verified for size, concentricity, hardness, porosity, register fit and imprinted with an Exline job number for traceability. ThermAlloy® cylinders can be packaged for immediate use, or for long term storage, each with detailed preparation and installation instructions. Water jacket areas of cylinders, if applicable, are leak tested after repair with 180 degree F water and 80 psi air pressure in order to assure all plugs and flanges will be leak free at installation.
10. Industry Leading Warranty. Exline ThermAlloy® coatings, applied in a new cylinder, or as a repair, carry an 18 month 13,000 hour run time warranty, whichever comes first.