Use Thermal Spray Coatings to repair worn parts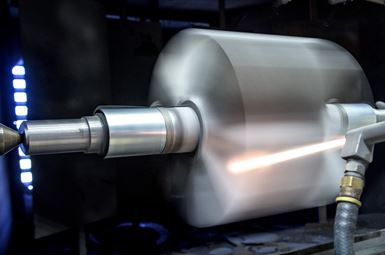 ThermEx® Thermal Spray Coatings from Exline, Inc.
Exline has more than 50 years of experience in applications using thermal spray coatings. Thermal sprayed coatings can be used to improve performance of worn or damaged parts by restoring original dimensions using the application of new surface material and then machine finishing to exact dimensions. This process is also used to prolong surface life and wear resistance, add corrosion protection to parts in corrosive environments, improve lubrication and reduce the need for lubricants, and resist abrasion.
Components restored with thermal spray coatings frequently outlast original parts by a wide margin resulting in long term savings. ThermEx® coatings are also ideal for preventative maintenance. Many Exline customers request thermal spray coatings on new parts and machinery prior to use to take advantage of improved performance right from the start.
ThermEx® thermal spray coating systems include a group of processes by which metallic or non-metallic compounds are heated to a "plastic" or molten state and then propelled onto the prepared workpiece in a high velocity stream of compressed gas. Coating particles flatten on impact, adhering tightly to the sprayed object and to each other. The coating cools instantly and builds up into a tightly bonded lamellar structure. Metallurgically, thermal spraying can be considered a low temperature or "cold" build up process.
Because thermal spray coatings provide high bond and internal strength without excessive heat, even delicate or plastic parts can be coated successfully. Metal does not undergo the changes in hardness and temper associated with high-temperature processes such as welding. This makes it possible to exploit the desirable properties of dissimilar materials that cannot be alloyed. Hundreds of materials are available to improve wear and corrosion resistance or to impart a variety of surface characteristics. The multiple coating options are available depending on the characteristics desired. Exline, Inc uses:
Stainless Steel
Aluminum
Ceramic
Tungsten Carbide
Chromium
Bronze
Copper
Zinc
Babbitt
There are also different types of systems that can be used. What differentiates these systems are the materials used and how they are applied. The systems that Exline, Inc. uses are:
Combustion Spray systems

Twin arc spray systems

Plasma spray systems

High Velocity Oxygen Fuel (HVOF)
Coating systems can be used to repair or enhance many types of components in a variety of applications.
Grinder Spindles- ThermEx® coatings can be used to extend the life of high wear production line components by increasing durability and providing wear resistance.
Steam Turbine Shafts- Plasma, electric arc, or HVOF techniques are normally used to apply wear and corrosion resistant coatings on turbine shafts.
Bearing Mounting Sleeves- Non conductive coatings can be selected to insulate the inner bearing race from the sleeve and eliminate electrolytic action.
Pump Plungers- Exline, Inc. engineers the process and coating based on the operating environment. Pump plungers are normally coated with carbides and ceramics. Exline also manufactures new plungers.
Pump Impellers and Shafts- Typical repairs involve seal surfaces, wear rings, and bearing fits. New surfaces can be built up and service life extended with arc sprayed, plasma sprayed, or HVOF sprayed coatings.
Non-metallic Surfaces- Components made from fiberglass or plastic can be thermal sprayed with conductive metals, such as aluminum, zinc, or copper, to help dissipate static electrical charges.
Power Pistons- Applying thermal sprayed coatings to worn or damaged areas results in a repair that is often more durable and less costly than acquiring replacement parts, especially pistons used in large stationary engines. Thermal sprayed coatings offer scuff resistance and improved lubricant retention, resulting in improving cylinder wall life.
Power Cylinders- Exline, Inc. uses the thermal spray application of ThermAlloy® to restore power cylinder bores. This durable, high-density coating stands up to the extremes of temperature, pressure, and corrosion that cylinder walls are exposed to and results in longer service life.
Power Cylinder liners- A variety of coatings can be used to restore eroded areas such as liner locating pads, water jacket areas, and sealing or seating surfaces.
Power, Master and Articulated Rods- Thermal sprayed coating processes restore rod eyes, bushing fits and thrust surfaces.
Crankshafts- Electric arc, wire flame, or HVOF techniques are used to build up worn or damaged areas on main journals, gear fit areas, and seal surfaces.
Compressor Pistons- Selected alloys are used to restore compressor pistons of all sizes. Ring grooves can be reclaimed and service life extended even on aluminum pistons.
Compressor Crossheads and Slippers- In this application, tin babbit alloy is applied to provide or restore the bearing surfaces.
Compressor Rods- HVOF processes and carbide coatings provide an ideal surface for both rods and packings.