Plastics Mixing Services from Exline, Inc.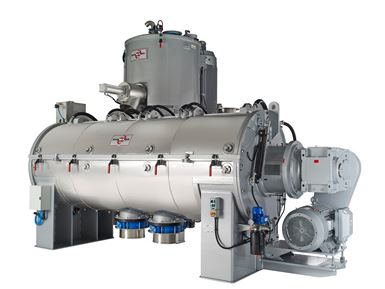 Plastics Mixing Services from Exline
Exline's Plastics Equipment Division specializes in Repair and Manufacturing Services, providing Spare Parts, and precision components and Technical Support for the Plastics compounding equipment Industry.
You can also relay on Exline for all for your new equipment needs. Exline is proud of its partnership with Promixon. Promixon is the leading provider of high quality mixing systems. Exline offers Promixon's full product line of high performance mixing equipment for plastics materials and powder coatings in the U.S. and Canada. Promixon's product line includes high speed turbomixers, coolers as well as container mixers.
Repair and Manufacturing
Exline's Repair and manufacturing capabilities include manufacturing new or reconditioning heat mixer vessels, cool mixer vessels, and mixing blades. We provide parts and services for all major brands of mixing equipment. Our refurbishment process for both heat and cool mixers. Exline also manufactures new OEM specification mixer blades for your heat mixer or cool mixer vessels, or we can recondition your existing mixer blades using DuraCoat® wear resistant coatings.
Exline developed the original proprietary family of sprayed coatings called DuraCoat® for use on heat mixers, cool mixers, and mixing blades. The Duracoat® process provides wear resistant coatings that extend the service life of your vessel liner and will greatly improve the performance life of your mixing tools and the high shear areas of your blending equipment.
Technical Consulting Support
Providing Technical Consulting Support is another way our skilled staff helps our customers. Exline's technical support and consulting service focuses on blending, extrusion, and fabrication of polyvinyl chloride (PVC) compounds, corrugated compounds, siding blending, recycled plastics, and other applications involving thermoplastics resins. Exline can provide guidance and planning strategies to companies that are interested in plant improvements, upgrades, and new construction. We are also able to assist plants with production issues, such as providing recommendations for enhancements in high intensity mixers to increase output and maintain consistent quality, conduct inspections on mixing and cooling systems, and provide recommendations for improvement with mechanical issues in batching mixing systems, pneumatic conveying, and mechanical production systems.