Exline Engine and Compressor Repair Services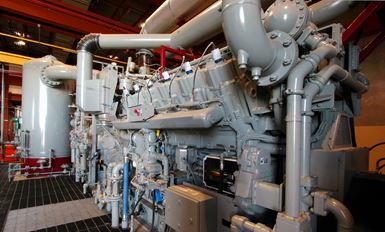 Exline Engine and Compressor Repair
Exline, Inc. specializes in the repair of reciprocating engines and compressors. Our Industrial facility is equipped with large scale turning, milling and grinding machines as well as the latest CNC machining centers to handle any engine and compressor repair project. For equipment too large to move, our Field Service Division performs repairs on-site at customer locations. With our Exline Express trucking services, we have the ability to pick up and deliver repaired components right to your facility.
These are the Large Engine and Compressor repair services Exline can provide.
Power and Compressor Pistons: Exline technicians restore rings and rider bands on compressor pistons, grooves, and provide scuff-resistant coatings for power piston skirts.
Compressor Rods: Exline rebuilds existing rods using thermal spray coatings, or manufactures new rods.
Connecting Rods: Exline restores crank and pin eyes on articulated rods and master rods and performs rod straightening.
Flywheel and Crankshaft: Exline restores the crankshaft to flywheel fit area, straightens bent rods, and polishes the journal areas.
Bedplate and Mainframe: Exline performs a complete inspection and checks all components, machine decks, and liner fit areas.
Line Boring: Exline performs wire alignment, bearing cap and landing mill using thermal spray coatings to restore jaw fits and saddle boring.
Block: Exline repairs cracked, pitted, or scored areas, restores liner fit and seal areas, and repairs damaged stud bolt holes.
Power Cylinder Heads: Exline repairs power cylinder heads including rebuilding the valve-train, installing new valves, seats, guides, springs, and keepers, machines the sealing surfaces and restores them using thermal spray coatings.
Component Modification and Redesign: We re-size compressor cylinders and pistons for application.
Power Cylinders: Exline restores power cylinders using ThermAlloy® coatings. ThermAlloy® is a revolutionary thermal spray application of a specialized coating material sprayed into the bore of power cylinders and liners to re-establish the size and provide a long lasting wear surface. Using ThermAlloy® results in improved cylinder performance and longer service life.
Compressor Cylinders- Exline refurbishes compressor cylinders using thermal spray coatings. We re-line and hydrotest.
Exline technicians provide a broad range of welding services including MIG, TIG, acetylene torch and stick welding.