High Speed Engine Services from Exline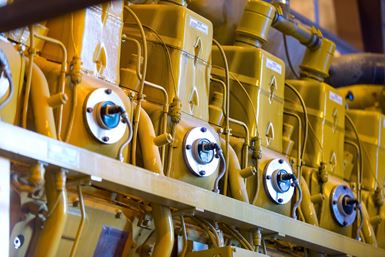 Exline, Inc. specializes in High Speed Engine Overhauls.
This is what our Our High Speed Engine Overhaul Process consists of:
Engine is completely disassembled, block split & inspected for wear, defects, or damage.
Crankshafts & Camshafts are removed, inspected, and polished.
Turbo Chargers are completely rebuilt with new bearings and seals.
Carburetors are completely rebuilt.
Manifolds, Air coolers & Oil coolers are vat-cleaned, inspected and pressure-tested.
All Auxiliary drives, drive gears, bearings, bushings, chains, and sprockets are inspected and replaced (as needed).
Governors, linkages, and starters are completely rebuilt.
All bearings, bushings, rings, pistons, and liners are replaced with OEM parts.
Heads are inspected, disassembled and vat-cleaned. New valves, new seats, and guides are installed.
Rocker Arm bushings are replaced.
Connecting Rod bushings are replaced.
All gaskets, seals, hoses, and belts are replaced.
Vibration damper is replaced.
Engine is re-assembled and non-load tested.
Additional Services:
Exline offers on-site repairs and overhauls for both High-Speed and Slow-Speed Engines from all manufacturers. Exline offers on-site repairs and overhauls to Compressors from all manufacturers.