Exline, Inc. Reconditioned Power Cylinder Exchange Program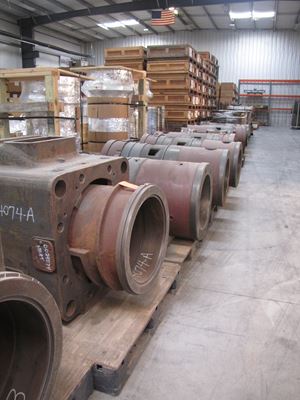 Exline, Inc. Re-conditioned Power Cylinder Exchange Program
Exline offers both 2 and 4 cycle power cylinders for purchase or exchange. Exline keeps cylinders from many makes and models in stock ready for immediate shipment.

Each power cylinder goes through an extensive inspection before the re-condition process begins. This inspection includes mag particle inspection, non-destructive examination, and precision dimensional and visual inspections.

Exline's Reconditioned Power Cylinders have the following features:
Bores are restored with Exline, Inc.'s ThermAlloy® coating or relined.
Each cylinder is line bored on centerline to re-establish concentricity and perpendicular dimensions.
All new core plugs are installed.
Cylinders are pressure tested.
Bolt holes are repaired.
Cylinders are prepped for long term storage.
Cylinder exchange or purchase options are available.
Reconditioned cylinders are backed by Exline's Full One Year warranty.
Exline Express Trucking is available for cylinder pickup and delivery.