Exline, Inc. Power Cylinder Head Repair Services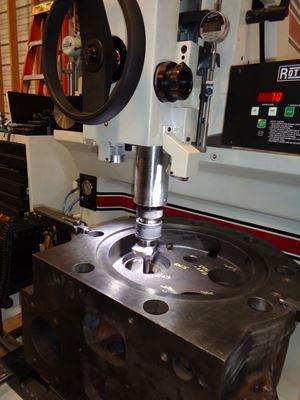 Power Cylinder Head Repair Services

Exline, Inc. repairs power cylinder heads to keep your equipment running smoothly with less downtime.

Our power cylinder head repair services include:
The valve train is completely re-built.
New valves, seats, guides, springs, and keepers are installed.
All sealing surfaces are machined.
Worn sealing surfaces are restored using thermal spray coatings.
Spark plug holes are repaired.
Water jacket is hydro tested.
Power Cylinder head undergoes non-destructive testing.
Cracks are repaired using metal stitching.
Fuel valves are reconditioned.

Exline, Inc. uses a Rottler SG80M Heavy Cylinder Head Valve Seat and Guide machine to re-condition small and large power cylinder heads. The SG80 is ideal for boring housings for oversize valve seat insert rings. The machine workhead floats on an air cushion for precision centering to valve guides. The built in vacuum tester allows for machine testing of the valve seats. This machine allows Exline to cut valve seats rather than grind, reducing the overall machining time.