Compressor Packing Services at Exline, Inc.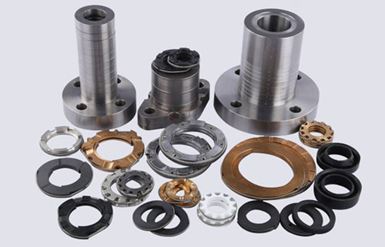 Reciprocating compressors in the natural gas industry leak natural gas during normal operation. Areas where leaks occur include flanges, valves, and compressor fittings. The highest volume of gas loss is usually associated with piston rod packing systems.

Packing systems are used to maintain a tight seal around the piston rod to prevent the compressed gas from leaking, while still allowing the rod to move. This packing system consist of a series of flexible rings that fit around the shaft to create a seal against leakage. The packing rings are lubricated with circulating oil to reduce wear, help seal the unit, and draw off heat.

As with any reciprocating component wear is normal. However, excessive wear can be caused by improper rod runout, improper rod finish, or improper lubrication.

Typical issues associated with excessive wear include:
• Packing ring failure
• Garter Spring Breakage
• Cup leakage
• O-ring failure

Indications of packing issues are:
• Vent leakage- line pressure
• Premature packing wear
• Compressor rod wear

Simple Trouble Shooting Procedures can help identify the causes of these issues and how to fix them:
• Check Clearance
• Check Rod Condition
• Check Drain Opening of the wiper
• Check Ring Material and Style
• Check Spring Tension and Condition
• Lubrication- that oil of the prosper viscosity is applied in the proper amount.

To help our customers meet their compressor packing needs, Exline Inc. has invested in state-of-the-art machining, lapping, and inspection equipment capable of refurbishing packing case segments to a flatness of 1-3 light bands. The resulting end product not only reduces greenhouse emissions but also keeps more of our customer's compressed gas where it belongs, in the compressor.

Reconditioning Procedures for Packing Cases
• Inspection- and documentation of dimensions
• Cleaning- solvent washed and bead blasted
• Measure
• Cut depth and faces of each segment are machined as needed
• Lapping- both faces are lapped to produce required flatness.
• Measure
• Test for flatness (parallelism)
• Reassembly

After final inspection and documentation of critical measurements, the segments are coated with a film of light oil, reassembled in the proper order, and packaged for return shipment.

So that we can provide our customers full packing case services Exline, Inc. is partners with a premier manufacturer of packing rings. These rings can be provided separately or can be installed in your refurbished packing case if needed. We offer a wide selection of premium material solutions which are individually suited for operational needs.
Exline can help with your compressor packing needs.