Case Study - Packing Cases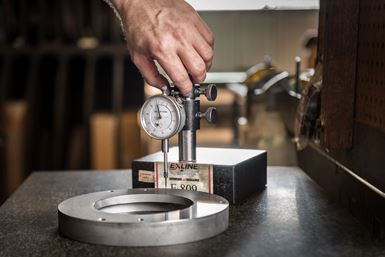 Exline, Inc. offers its customers the highest quality pressure packing and oil wiper packing in the industry, with a large material selection to serve each customer's operational needs. Exline's experienced applications support and customer case history, coupled with a wide selection of applied materials results in custom seal ring and wiper solutions that consistently outperform traditional approaches.
In order to help our customers reduce their greenhouse gas emissions, Exline recently invested in one of the leading brand critical machines to provide the very best results for Packing Case & Wiper Assembly manufacturing and repair along with the calibrating system to keep repair work accurate and with constant repeatability.
Exline's state of the art packing case manufacturing and refurbishment station includes the very latest in manufacturing technology, lapping capabilities and an inspection system to produce packing cup segment flatness to less than 3 light bands (34.5 millionths of an inch).
Exline starts by marking each segment, in order to assure they are reassembled in the designed sequence in which they were received, and serial number the case for identification purposes. Next the case is photographed, disassembled, solvent washed, and glass bead blasted. The segments are then inspected and the "as received" dimensions are recorded. The cup depth and faces of each segment are then refurbished to original specification and both faces are lapped to produce the required flatness specification. Exline's machining, lapping, and inspection equipment processes are capabile of refurbishing packing case segments of all makes and models, to a flatness of 1-3 light bands. After a final inspection and documentation process, the segments are reassembled in the designed orientation, and packaged for return shipment and future installation.
Exline can also re-establish the size, hardness, and finish of the compressor rods through the use of our Thermex® thermal spray coatings to extend the life of the packing case are of the rod. Exline Inc. also stocks replacement parts for many makes and models of compressors.
Photos