Field Services Engine and Compressor Repair
Field Services Engine and Compressor Repair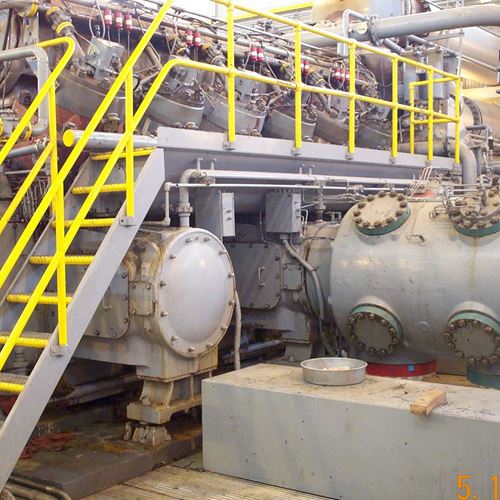 Field Services Engine and Compressor Repair
Exline Field Service crews reduce customer downtime with specialized mobile equipment to perform both mechanical and machining services on-site at customer locations. Exline Field Service crews arrive on-site, fully equipped, safety-trained, and capable of performing repairs of any scale.
Field Mechanical Repairs
Exline Field Service crews perform on-site compressor repairs to the compressor rod, piston, cylinder, liner, and compressor valves.
Specific services include:
Compressor Rod
Non destructive test for cracks
measure for wear
Replace pressure and wiper packing
clean and inspect wiper cups
measure and adjust rod run out
Compressor Piston
Non destructive test for cracks
Install rings and rider bands
Measure and adjust head end clearance
Compressor Cylinder and Liner
Deglaze
Inspect valve seat areas
Remove and replace the liner
Bore liner and/or cylinder
Face head end
Machine valve port seat
Check compressor cylinder alignment
Repair threaded holes
Face suction and discharge flanges
Compressor Valves
Remove and replace or rebuild
Field Service Repairs
Additional Services our Field Machining Crews provide:
Non-destructive testing (NDT) with ultrasonic, dye penetrant, magnetic particle, and white line
Honing from 1" I.D. to 32" I.D.
Remove broken stud bolts
Metal stitching cracks using Lock-N-Stitch stitching materials
Pipe flange facing
Heat exchanger flange facing & milling
Motor mount pad milling
Machine keyways
Coupler Laser Alignment
Pump alignment
Repair bad threaded holes
Nortex Field Services
Exline, Inc. has recently purchased Nortex Field Services. Located in Sherman, TX, Nortex Field Services has been servicing the needs of the petro chemical industry since 1979. Nortex Field Services provides in shop and field repairs of engines, compressors, pumps, rods, crossheads, and related engine components.